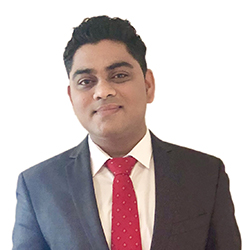 Welcome to KL Software Technologies ("KLST"). As President and Group CEO, I know I speak for all of our employees as I proudly inform you about our company and the ideals which we stand for. KLST's mission can be summed up in three words – Deliver Technology Innovation. Founded in 2003, our company enjoys a rich history of delivering cutting edge technology solutions and mobile applications that change the way people communicate and collaborate with each other.
That determined effort started in Sydney, Australia in a small garage, and today our solutions and applications are used by customers throughout North America, United Kingdom, Australia, and beyond. We are guided by KLST's vision statement "Leading Innovation", which reflects the pride, spirit, and aspirations of our shareholders, board of directors, and employees.
As an introduction to KLST, let me describe our key strengths and strategies. These are the things that make us special, a "KLian" – the foundation upon which our business relationships are based.
First of all, I am fortunate to work with a talented group of highly motivated, loyal, and experienced people. Several members of my leadership team have been with the company since its inception. Our typical employee has been with us more since the start – which is remarkable for a business of our size and a competitive technology employment landscape.
This speaks for another of our key strengths – family values. As a private, family-owned company, we treat one another with dignity and respect and work hard to improve the communities in which we operate. The Jagannathan family, which continues to own 100 percent of the company, recognizes there are many stakeholders in the business beyond themselves – including customers, suppliers, communities, and employees. They consistently have shared the rewards of success with all these stakeholders. They also take a long-term point of view on our business by looking towards the next generation, not just the next quarterly earnings report.
Another great strength of our company is to focus on the latest technology trends and investment in Innovation. Today, we are one of the leaders in creating cutting edge "hybrid" intelligent mobile applications for various platforms such as Apple, Google, and Microsoft tablets and phones. We continue to innovate – with a constant flow of new ideas and wearable computing apps that keep us on the cutting edge. A notable recent example is a release of "The ORACLE", an Artificial Intelligence Chatbot that will revolutionize how firm users can find, use, share information from line of business systems within a single easy to use interface. We also continue to expand our innovative software+services offering via the launch of Augmented Reality services focused on building intelligent apps for Microsoft HoloLens.
Still another key strength is the legacy we have been building for more than 15 years. KLST and the Jagannathan family are synonymous. Our combined reputation means more to us than dollars and cents. Integrity is a byword of how we do business. We are award-winning leaders in providing reliable technology consulting services on the Microsoft platform, especially Microsoft SharePoint. We take care to maintain a strong balance sheet underpinned by conservative accounting. We have established a world-class board of directors. A majority of the board's members came from careers outside of KLST, ensuring independent oversight. My Board and I continue to play an active role in the company's governance and strategies.
Put all these attributes together, and they explain how we have achieved our greatest strength of all – the relationship we have with our customers. Recognizing every customer has its own unique market position and strategies, we work hard to understand and meet those special needs – one customer at a time. Our sales force plays a key role in matching our capabilities to each customer's needs and cares about our customer's success and measurable ROI on every dollar spent with KLST.
Now that you know our strengths, let me list our key defining strategies – five of them in all:
Being the best in the world at creating mobile and wearable computing applications, and by so become the leader in our industry;
Succeed by helping our customers meet their business objectives;
Offer the best "intelligent" consulting services and high-quality products at cost-effective prices to our customers, built on Microsoft SharePoint, Dynamics CRM, Microsoft Azure, Microsoft Office 365, Salesforce, and .NET platform;
Believing in our global team, each of whom plays a key role in keeping our company innovative, competitive, and successful;
Continuing to build the legacy that defines our family company;
Once again, welcome to KLST, and thank you for your interest in our company. Feel free to peruse our website, and to Contact Us for additional information or support. As one of the leaders in our markets, we want to be not only your number one source for technology consulting services, solutions, and apps but also for related information and expertise.
Sincerely,
Ragav Jagannathan
[email protected]
President and Group CEO
KL Software Technologies.