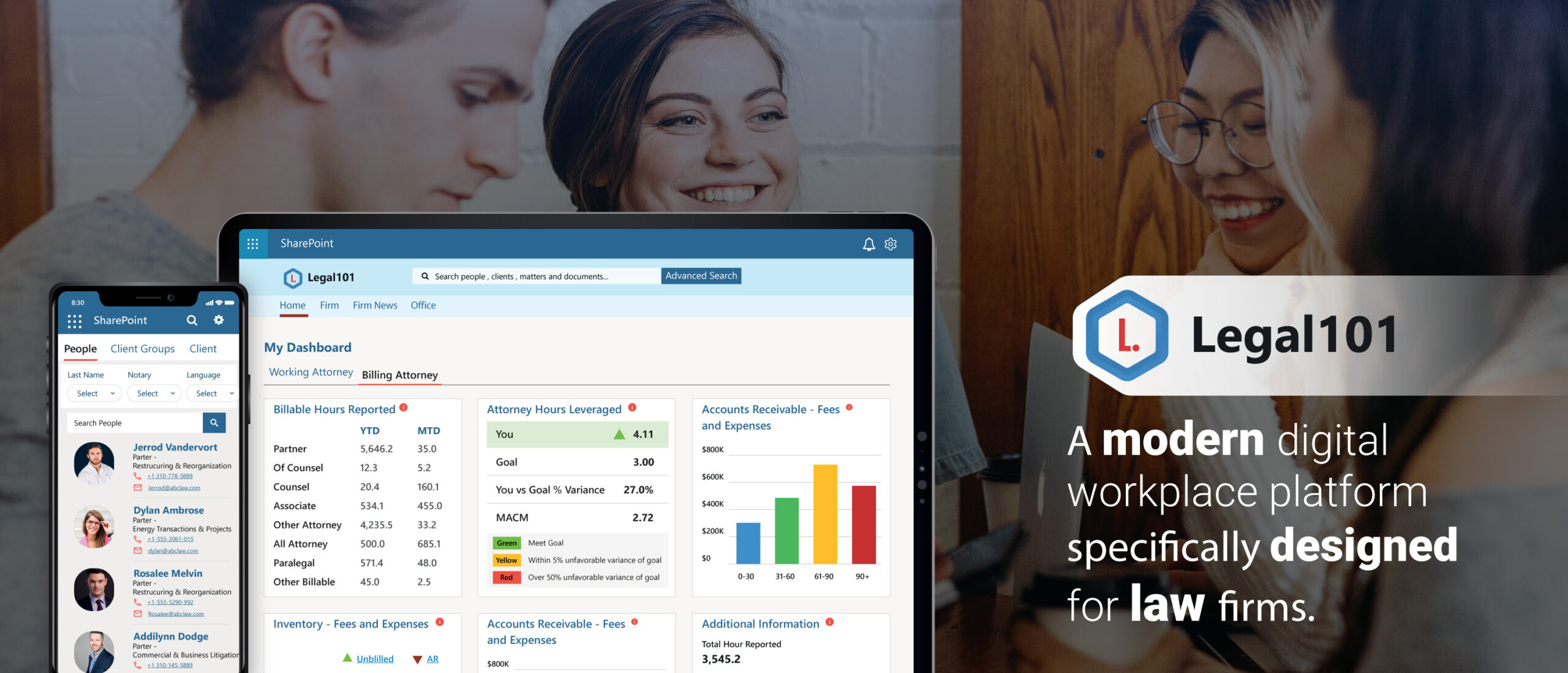 What is Legal101?
Legal101 is a modern digital workplace platform specifically designed for law firms looking for rapid deployment of a modern mobile-first SharePoint Intranet that helps the firm employees communicate, collaborate, and engage closely without the need to build a complex, risky, expensive customized solution.
"An Intranet was a long time Firm goal, but we needed a great-looking, packaged solution we could implement quickly, that would be easy enough to maintain. Legal101 offered us all this, at a much more attractive price than the other solutions I considered, and KLST has been a phenomenal partner for us throughout"
Erica Greathouse | Chief Technology Officer
ADAMS | STIRLING PLC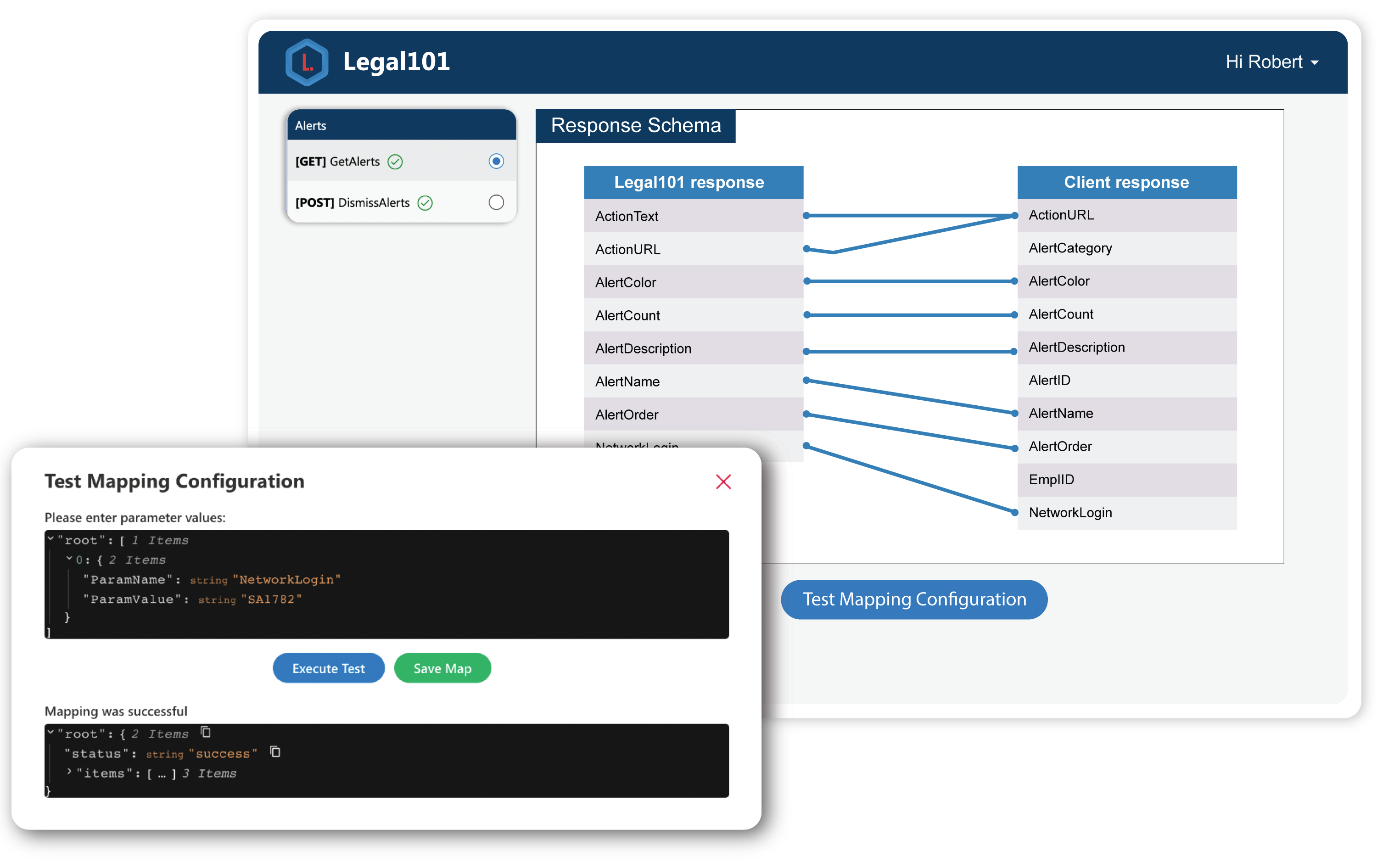 Legal101 Connector
Surface intelligent data from any line of business platform on your Intranet.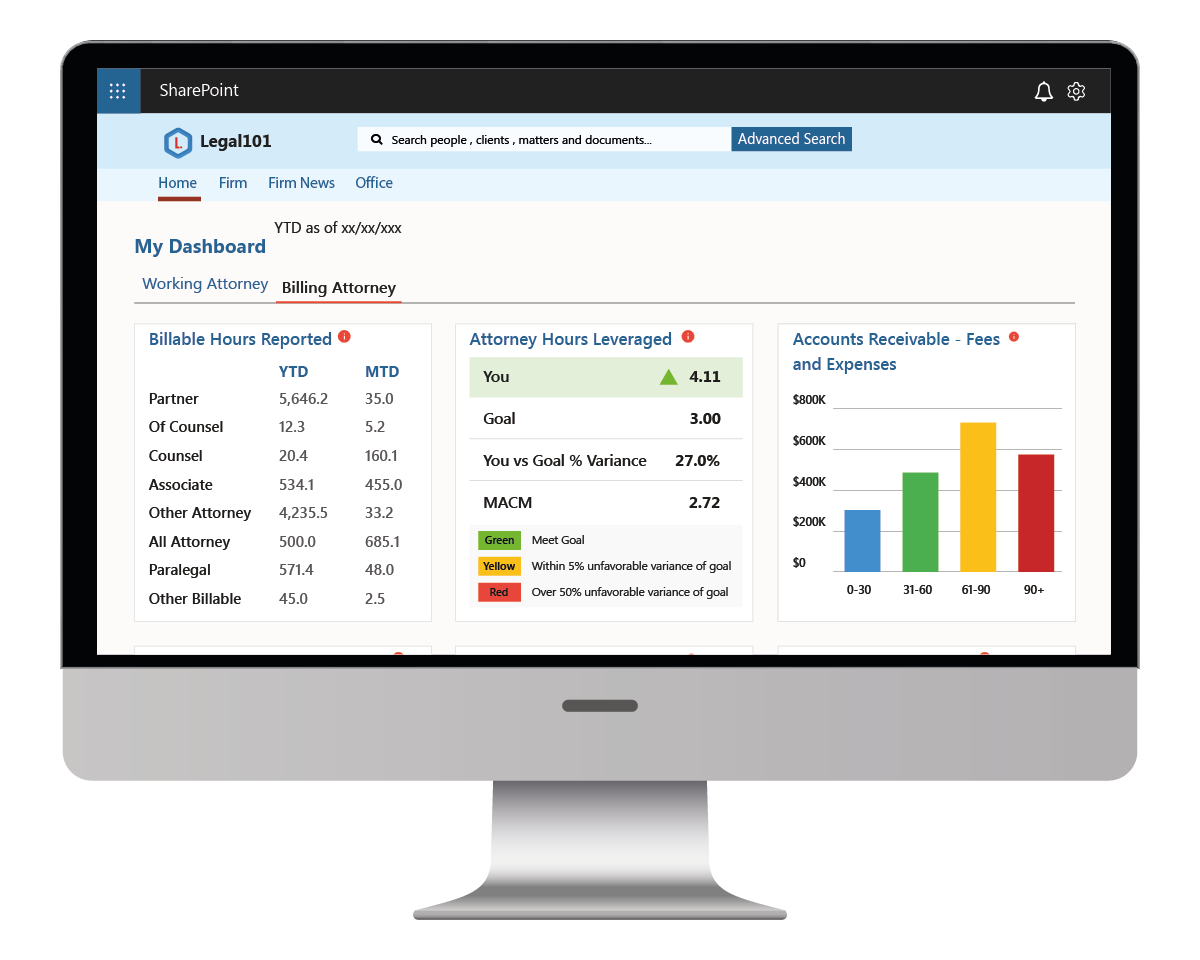 Lawyer Dashboard
Data intelligence for Law Firms
An intuitive and flexible dashboard for visualization of lawyer data and other financial data including modern insights graphs and charts to gain data intelligence. You can derive unique data visualization insights from your own data, which can be persona-targeted such as display of data relevant to attorneys. Data visualization tools including popular charts and tables provide actionable data insights such as Billable Hours, Inventory, Accounts Receivable, Top Clients/Top Matters, and much more.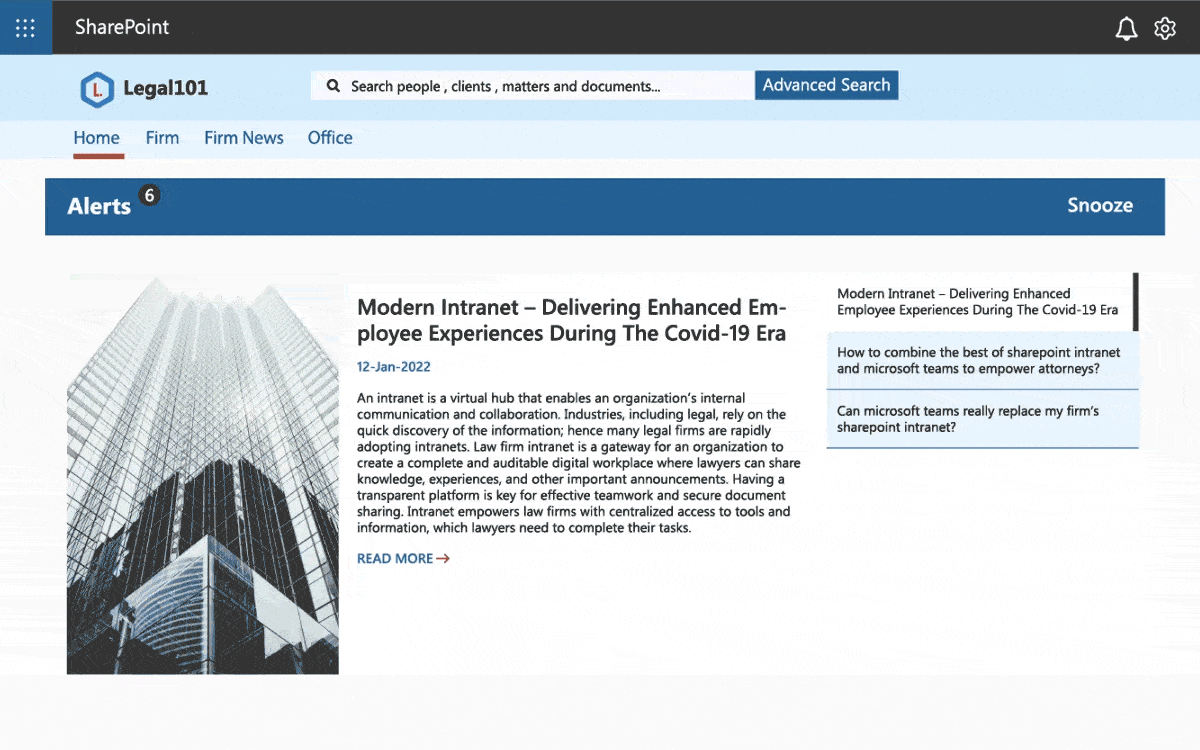 Push Actionable Alerts
Alert notifications to important action items
Configure Alert center tiles to facilitate real-time communication and alert attorneys, timekeepers, or personal assistants on Billable missing time, Temp time balance, Matters to review, Expense & Approvals pending, and much more.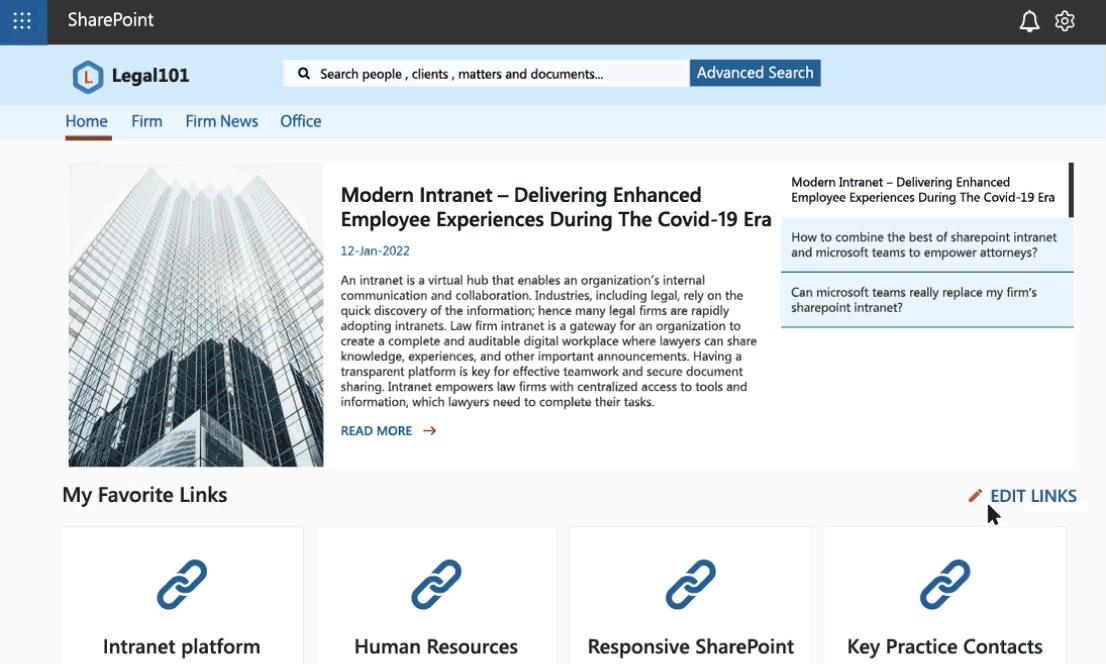 Guided Search Experience
An intuitive and fast Search experience
An intuitive search capability to find data quicker in your Firm SharePoint with keywords such as people, client/matter number, and departments or faster search with the best matching keyword.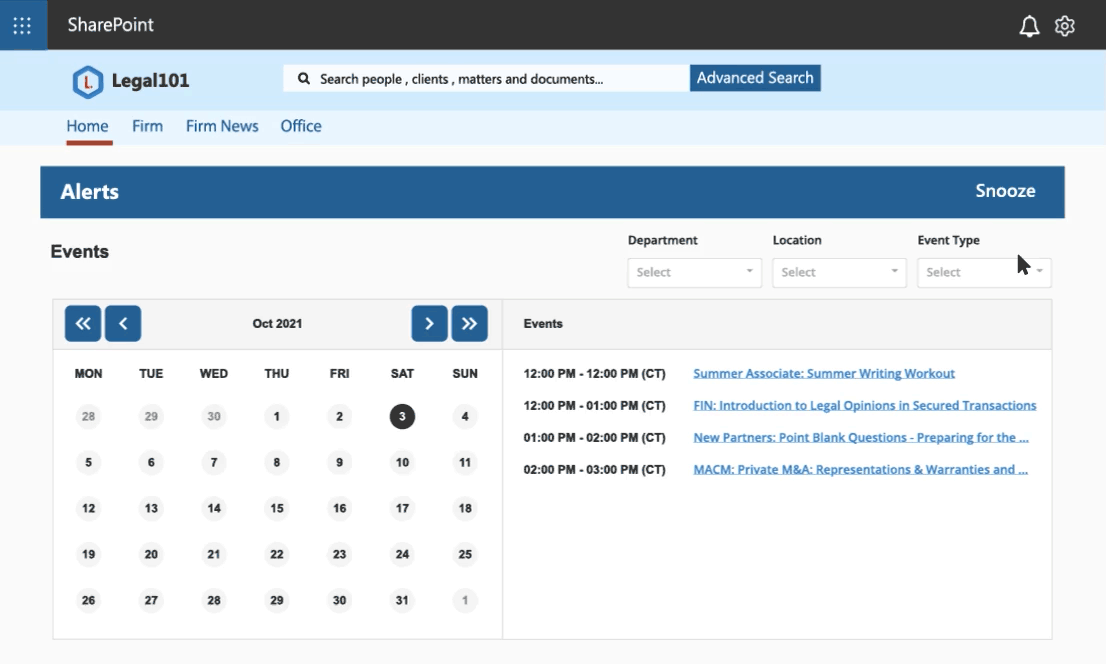 Firm Calendar
Shared calendar to track important dates
Configure the calendar to publish company Firm events or target-specific dates as well as to schedule meetings. The users can get real-time updates of important dates, events, or target-specific dates together enhancing Firm productivity.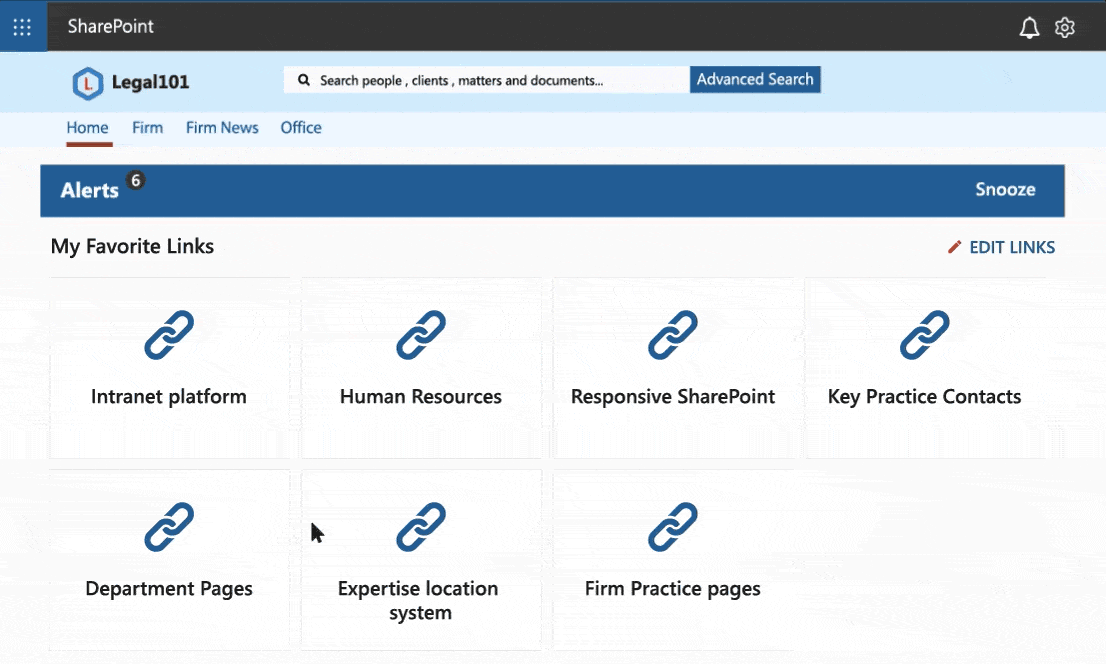 Custom My Favorite Links
Custom Favorite links for quick access to data at ease
Create a custom list to access your preferred data quickly from various sources (such as a firm-wide links list).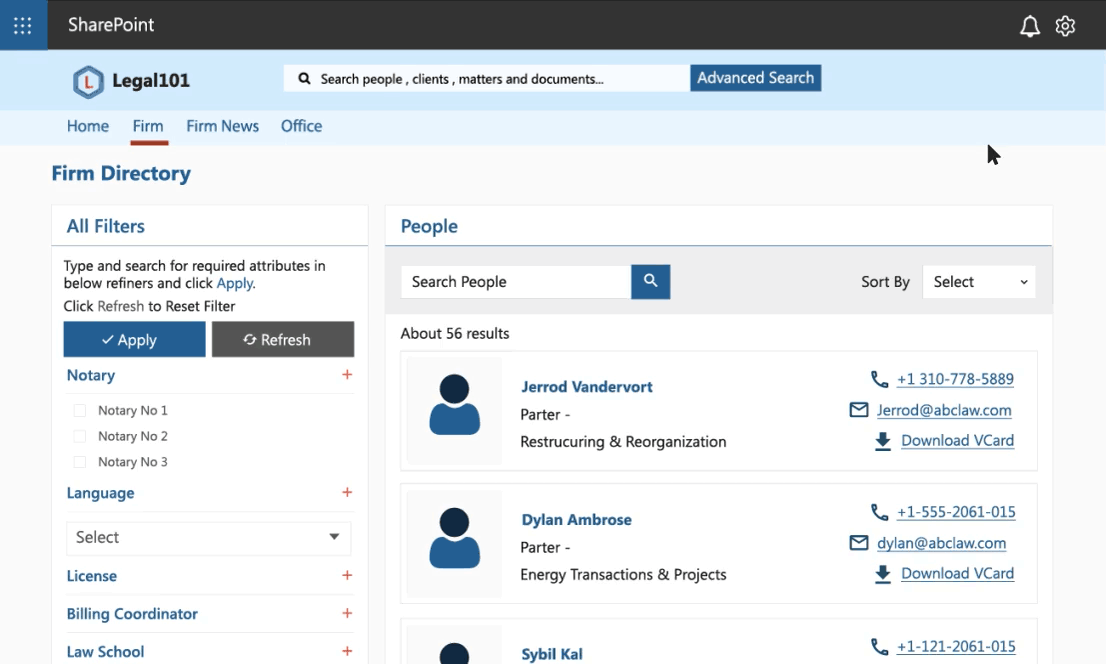 Firm Directory
Legal expertise directory to Connect and Collaborate
The Firm directory provides an expertise location system that helps to quickly find the right people in your firm to effectively tackle each unique Client matter. The legal expertise directory includes customizable filters such as Notary, Language, Billing Coordinator, Law School, Judge, Court, and much more. The customizable user profile page with graphical insights is an added advantage.

Firm News
Custom Newsletters to share Firm News
Custom templates to easily organize News into newsletters, which can be an alternative to email-based memos, daily reports, or other common sources of content feed. Examples: Daily IT newsletter, Litigation Practice News, Today @ our Company, and much more.
Legal101 can be deployed on Microsoft Office 365 SharePoint Online or SharePoint Server 2016 / 2019.