Vendor101 – An Introduction
The Vendor101 SharePoint template provides your organization with a searchable, customizable, self-service vendor registration portal for vendor prequalification and communications. It also allows your organization to assess vendor capabilities, financial solvency, product/service quality & pricing, maintain all supplier information and documents, and measure & evaluate vendor performance, service levels & continuous improvement.
Read More
Contract Management Dashboard
Identify & Manage Vendor Risk Profile
Instant Access to Vendor Information
Vendor101 allows organizations to categorize vendors before assessing vendor risk, because not all vendors are the same. Some vendors may be categorized as tactical whilst others may be classed as strategic, because the enterprise has a high dependence on them, has high spending, and plans to increase business with the vendor over time.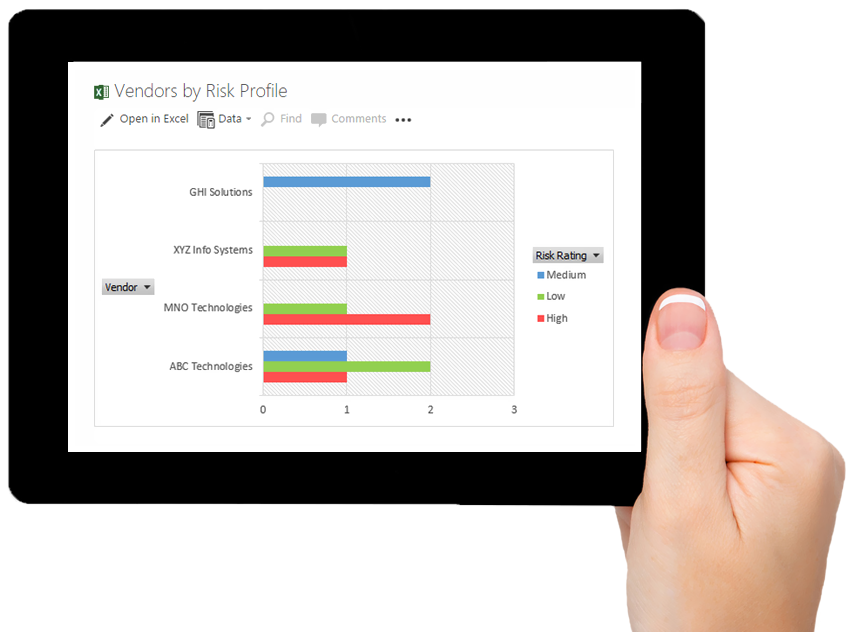 Request for Proposal Requests
Combined with the Request for Proposal, Sourcing and Contract Management capabilities, Vendor101 is your complete vendor collaboration system. Readily deployable on Microsoft SharePoint Online, you can be up and running Vendor101 in a few days.
Vendor Inquiry & registration Process Automation
Vendor Inquiry Questionnaire
Vendor Registration and Self Service
Vendor Approval Process
Vendor Risk Register
Vendor Billing and Invoicing Procedures
Simplified Experience – Vendor / Contract Dashboard
Contract Management (Incl. Contract Renewal Workflow)
Request for Proposal Process
Download Brochure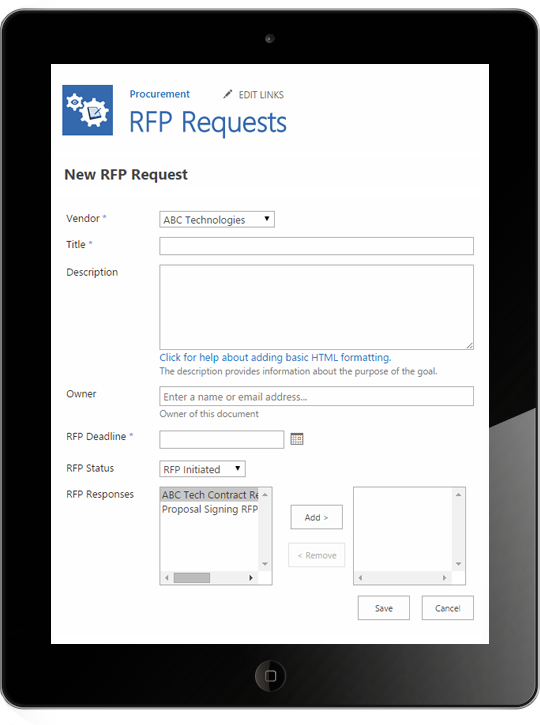 Simplified Vendor Selection
Ability to design the Vendor Inquiry Questionnaire (choose the mandatory fields based on product requirements)
Vendor Selection & Approval Workflow
Associate a Risk Profile (Organizational, Financial, Support and Strategy Risks) with each vendor
Track Vendor related documents in a centralized location (incl. Contracts)
Support Ongoing Supervision and Monitoring of Vendors
Personalized Dashboard
Vendor Dashboard to track all approved vendors and associated Risk Profile,
Procedures, Invoices, Contracts and Proposals.
Contract Dashboard to track all Vendor Contracts and associated Contract WIKI,
Items and Purchase Orders RFP Dashboard to track all open RFPs (requiring response)
Vendors requested to respond to RFP, Vendor Responses received and RFP
Response award (incl. support for SOW workflow)