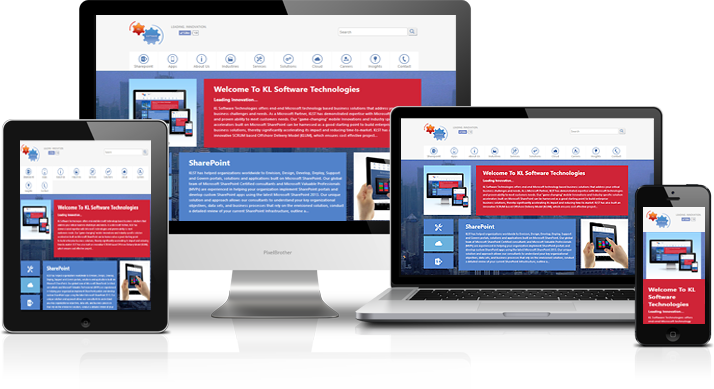 KL Software Technologies specializes in building websites designed with Responsive Web Design (RWD) concepts where the site is able to adapt the layout of the viewing environment by using fluid, proportion-based grids, flexible images and CSS3 media queries.
Using the CSS media queries capability implemented in all modern browsers, and based on the screen dimensions of the specific device, we load different style sheets to ensure that your website is presented in a user-friendly manner. And because CSS has its limitations, we use JavaScript to further optimize the interface and interaction of a website on mobile devices.
Why KLST for Responsive Web Design (RWD)?
KLST focusses on "user first based design", which means that we focus on easy to use User Interface that adapts to the screen real estate of the device thereby resulting in an increased User Adoption (which means that your customers will "stick" to your website resulting in better conversion).

KLST has built many responsive websites for our USA, Australian and UK clients. Our best showcase of a 100% fluid Responsive Web Design that renders flawlessly on all modern mobile devices is KLST's very own corporate website (this website that you are currently browsing – go on and browse our website on your Android/iPhone/iPad/Windows Tablet or phones and experience the KLST difference of building user-centric modern corporate websites using RWD best practices).

KLST's unique approach puts the business goals and objectives first for RWD followed by how content should be presented to potential customers across multiple devices. Our unique PC & Mobile Wire framing process allows you to review the site on paper prior to a full-build.

KLST has strong proven experience with pre-built Responsive and Fluid Grids that can help with quick implementation as well as save on costs. KLST has developed its own SharePoint 2013 based RWD Framework called "Responsive101" built on the Twitter Bootstrap 3.0.0. Responsive101 Framework allows us with rapid prototyping and implementation of rich user experience based 100% responsive websites built on SharePoint 2013 Web Content Management platform and readily deployable on both on-premises or Microsoft 365 (we recommend this option as its one of the most cost effective ways to host an enterprise scale website built on Microsoft SharePoint 2013 Web Content Management platform).