KLST "Governance101" Program of Work is an engagement with KL Software Technologies, a premier Microsoft Managed Partner and a global leader in providing Microsoft Business Solutions to Fortune100, ASX100 and FTSE100 organizations around the world. This engagement will focus on helping your organization rollout an effective governance plan, which ensures your SharePoint portal is well-managed, used in accordance with its designed intent and to prevent it from becoming an unmanageable system. Some of the key deliverables include: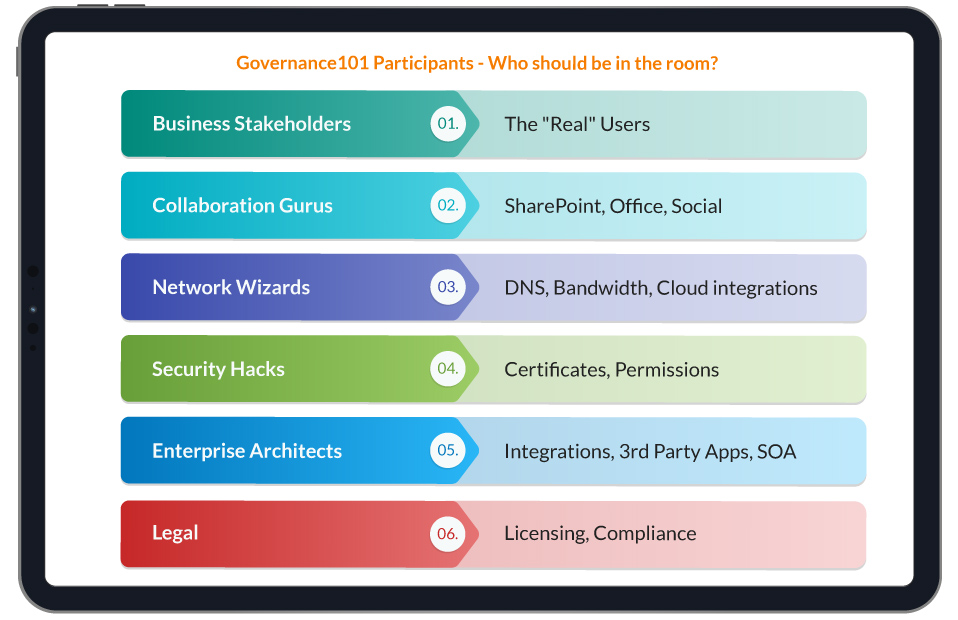 A Series of Workshops with key business stakeholders
Operational Management Plan – Encompasses traditional project management concerns as well as operational management concerns – as they refer to the ongoing management of SharePoint platform.
Change Management Plan – Process of requesting, determining attainability, planning, implementing & evaluation of changes to SharePoint sites.
Operational Concerns Plan – Ensures that the system will remain operational and set proper expectations with business about the availability of SharePoint platform and associated technologies.
Navigation, Taxonomy & Search Plan – Important for the long term adoption of SharePoint because it enabled users to find relevant information (especially if location is unknown).
Education and Training Plan – As adoption is an important measure of SharePoint governance success, education and training are important proactive tools. Education and training not only explains the features that SharePoint exposes but it also helps users implement self service site provisioning.
Infrastructure Plan – important because it impacts the way the portal will be used, in terms of Firewalls, Load Balancing and Environments.
Development and Configuration Plan – SharePoint Application platform significantly blurs the line between what is development and what is configuration. These are essential parts of the governance plan so that the portals and sites implemented on the platform are consistent.
What is the cost of "Governance101" Program of Work?
The cost depends on the number factors including the number of SharePoint users and the complexity of Infrastructure, location of users and portal owners (geographically dispersed) and current state of portal deployment. Some example of duration of project engagements are as follows:
Governance101 Program of Work rollout for a Fortune100 organization with 30,000+ users spread across three international locations with geographically dispersed SharePoint Server farm = 5-6 months duration
Governance101 Program of Work rollout for a Fortune100 organization with 500+ users spread with six USA locations with a New York based SharePoint Server Farm = 3.5 months duration
Please Contact Us today for a detailed effort and cost estimate to implement a robust SharePoint Governance Strategy aligned with your business goals and vision, using KLST Governance101 Program of Work.